Since 1991
Well rooted in Magdalen Islands, Les Fruits de Mer Madeleine is born from the vision of four traditional snow crab fishermen in 1991. Our founders wanted to build a company that was well anchored in its community.
Today, it's more than 100 Magdalen Islands fishermen that are landing their catches of snow crab, american lobster, rock crab, toad crab, scallops, clams, whelks and ground fish at our plant, allowing us to offer every year a wide variety of processed seafood. We are able to achieve the highest quality standards, notably due to the hard work of 150 employees working all over the islands, whether at our processing plant and head office in l'Étang-du-Nord, at our fish market or lobster pond in House Harbour or at one of six fishing harbours of Magdalen Islands.
OUR VISION
The relationships we maintain are marked by the desire to bring out people and seafood. We are working as a team with our fishermen, suppliers, employees and clients to produce together the products that made us renowned. Our excellence is shown in top-of-the-line products obtained by sustainable methods of catch, transformation and sales. We aim for continuous improvement towards the best practices of the industry and the development of our skills and our products.
OUR FACILITES
Fruits de Mer Madeleine operates a seafood processing plant under federal agreement in l'Étang-du-Nord. Our facilities allow us to produce premium snow crab, and a wide variety of excellent seafood products. Our employees are following the best practices of the industry to reach our high quality standards.
Fruits de Mer Madeleine also operates a fish market at our House Harbour location. Known for its exemplary customer service, you'll be able to find a wide variety of fresh and cooked products during the season, as well as frozen and canned products that you can enjoy all year long.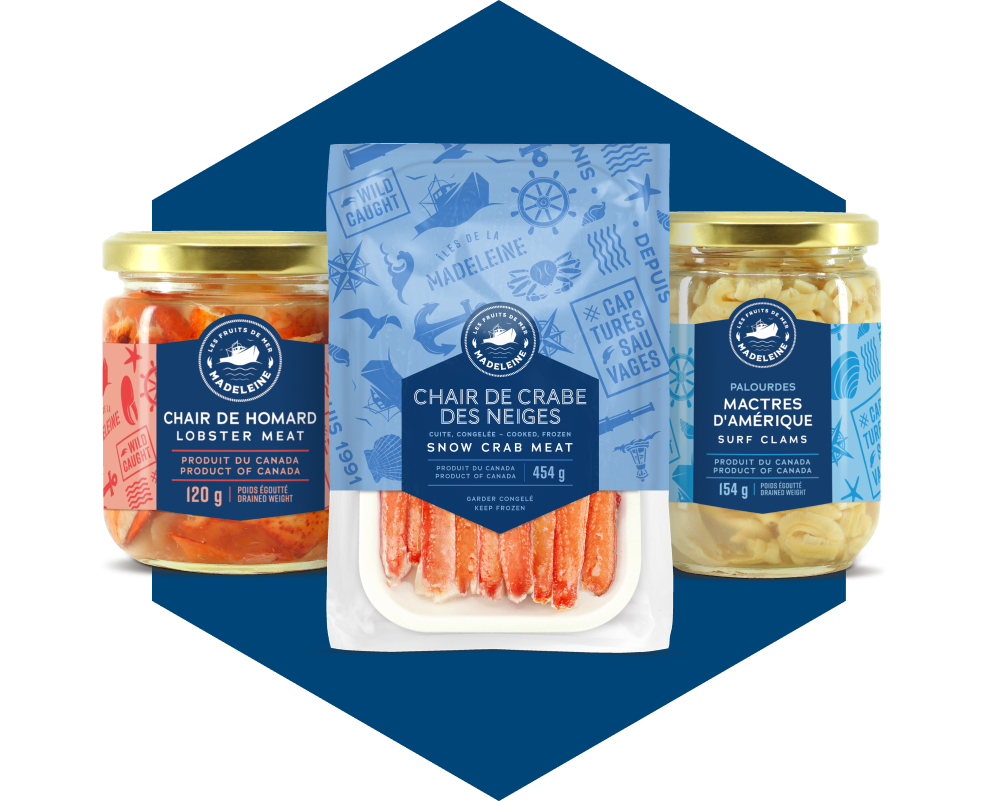 For all tastes
Fruits de Mer Madeleine offers a wide assortment of products all tastier than each other. They are available on local, national and international markets.